Saturday 7 am to 9 am
Racing Rocks! with Riki Rachtman is a two-hour weekly music-intensive program that provides rock fans coast-to-coast with news, exclusive insights, interviews and dedicated coverage from the world of NASCAR, primarily the Sprint Cup racing series. The program, which debuted in the spring of 2003, is available to affiliates in a choice of two different mixes, one for Mainstream/Active Rock stations and one for Classic Rock outlets.
In the driver's seat as the host of both versions of Racing Rocks! is well-known air personality Riki Rachtman who is not only a serious NASCAR fan, but also a respected racing commentator and a highly recognizable rock radio and TV figure. Rachtman emerged on the music scene in the late 80's when he opened his legendary rock-and-roll venue, The Cathouse, and he also served for five years as the host for MTV's original Headbanger's Ball. Riki has also recently been seen on Fox's Speed Channeland other high-profile racing outlets including NASCAR.com.
Joining Rachtman on the broadcast team each week are Kelly Wayne, Program Director and Air Personality at KMOK-FM in Lewiston, Idaho, who provides coverage of movies and other entertainment news each week, as well as Chris McClain, a sports radio veteran reporting from Charlotte, North Carolina who covers NASCAR's Nationwide Racing Series each week.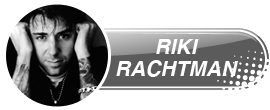 Thanks to the sport of NASCAR, a few people know me as Riki Rachtman, not "The guy that used to be." I'm proud of my past, or at least what I can remember. The Headbanger's Ball, my talk radio career. A loyal friend and an enemy who enjoys revenge. Internally, I do believe success is the sweetest form of revenge.
So what doesn't kill me will make me stronger. I'm a skeptic. I've heard it all. Speak the truth or remain silent. I really do believe anyone can do what they want on this planet. The world is an empty canvas – it's up to you what you want to paint on it. Hey, that was kinda profound, huh — I just made it up.
I love loud fast music but if it's done with heart. Ya, heart — like Motorhead. I grew up listening to punk rock and skateboarding. The first book I read as a child was about Alice Cooper. The best feeling is making someone laugh. No really, that's what I believe. I love Corvettes, Harleys, and good scary flicks.
I'm nuts. No, really I am — but it's worked OK for me so far.