Vets Invade the Canyon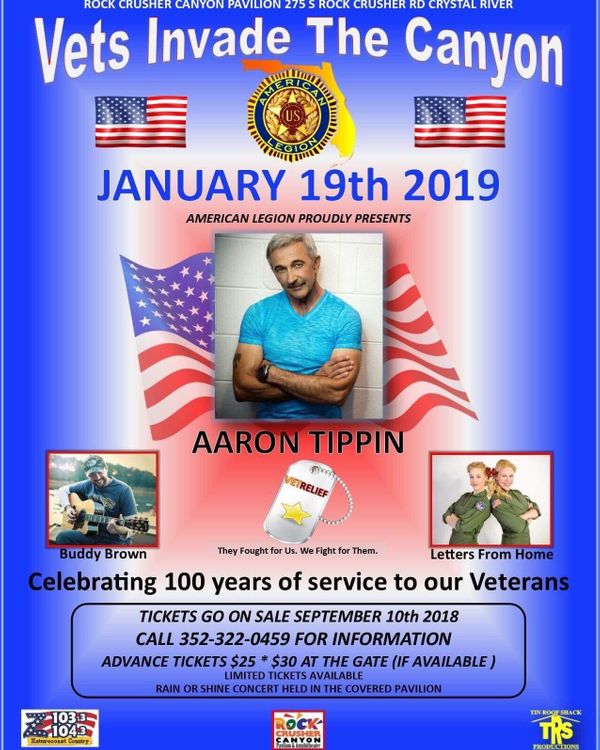 American Legion Post 155
American Legion Post #155 of Crystal River will be celebrating the American Legion's 100th Anniversary with a "Vets Invade the Canyon" Music Fest on Friday, January 18th and Saturday, January 19th, 2019 at the Rock Crusher Canyon Pavilion.
FRIDAY NIGHT 1/18/19 CONCERT features Sister Hazel, Scooter Brown Band and Letters from Home.  
SATURDAY NIGHT 1/19/19 CONCERT features Aaron Tippin, Buddy Brown and Letters From Home.
This is a charity event with 90% of the profits going to Project: VetRelief, a Florida-based veterans program that provides support and assistance to veterans throughout the state of Florida. The American Legion is a "501-C19 Non-Profit Veterans Organization."
Ticket Information
Advance Tickets $25 ~ $30 at the Gate (if available) Tickets are limited.
Tickets can purchased locally (CASH ONLY):
American Legion Post #155
6585 E Gulf to Lake Highway
Crystal River, FL
American Legion Post #237
6726 N Lecanto Highway
Beverly Hills, FL
Citrus 95FM – 103.3 Naturecoast Country
964 S. Crystal Glen Drive
Lecanto, FL
Rock Crusher Canyon Business Office
3991 W. Gulf to Lake Highway
Lecanto, FL
Kim's Cafe II
3910 S. Suncoast Blvd
Homosassa, FL
Sunoco Station ~ R and D Convenience Store
6971 W. Gulf to Lake Highway
Crystal River, FL
Excel Printing and Dirty Ape Ink
687 NE 5th Street
Crystal River, FL
TICKETS CAN BE PURCHASED ONLINE at www.vetsinvadethecanyon.com