2nd Annual Nature Coast Beerfest
Saturday September 1st, 2018
6 pm to 10 pm
Will be held at the Crystal River Armory
Located at: 8551 W Venable St Crystal River FL 34429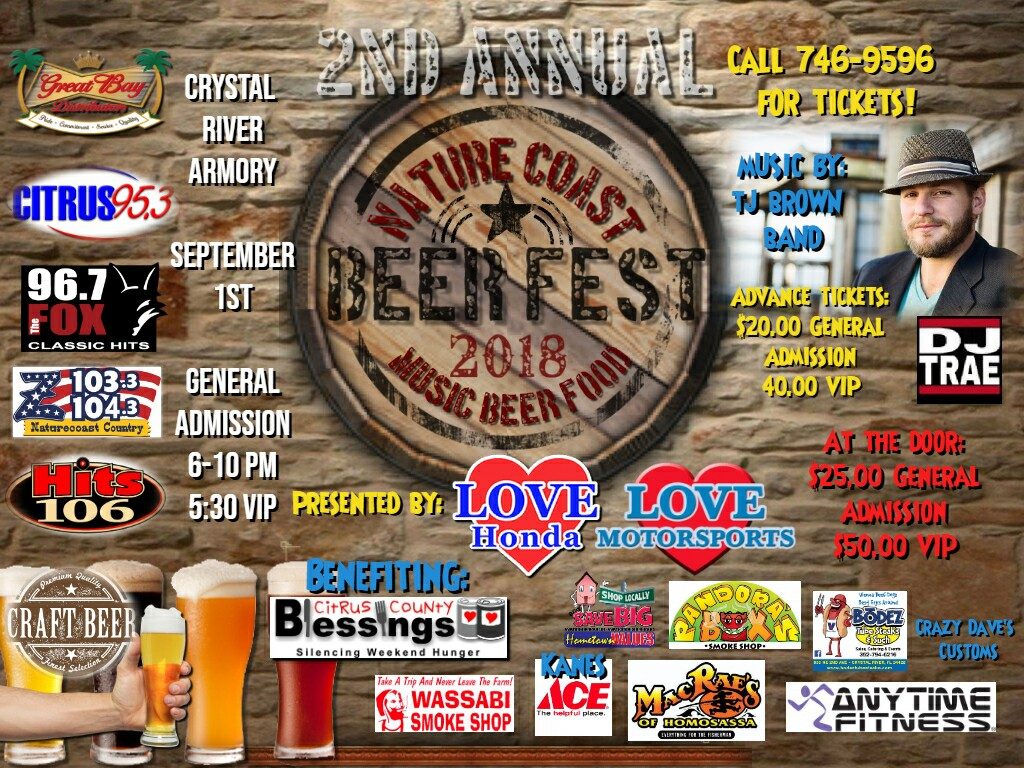 For more information check out the event on Facebook:
https://www.facebook.com/events/226050101381374/
Cost for an advance sale general admission ticket is $20 and $40 for VIP. The general admission ticket will include unlimited beer sampling.
Craft beer enthusiasts can purchase a VIP ticket for $40 in advance, which will allow them access into the event ½ hour prior to general admission. The VIP ticket will allow individuals an extra 1/2 hour of sampling without the crowds (from 5:30 – 6:00 PM) food, bigger cups & a VIP area!
There will be more than 40+ Craft beer Vendors, Food, Music, Silent and Live Auctions all Benefiting Citrus County Blessings at The Crystal River Armory!
Citrus County Blessings is dedicated to silencing the weekend hunger of local children in need. Each week during school year participants receive a bag of food to take home for the weekend. The food distributed is supplied through community donations and purchased items from the Community Food Bank of Citrus County.
Ticket Locations:
Crystal River Locations
Pandora's Box Tobacco Shop
352-794-3389 (Across from Wendy's)
157 SE US Hwy 19,
Crystal River, FL 34429
Floral City Location
Wassabi Smoke Shop
352-726-8158
6185 S Florida Ave
Floral City, FL 34436
Homosassa Locations
Angel's heaven on earth
352-503-9909 (Sunny day's plaza)
5372 S. Suncoast Blvd
Homosassa, FL 34446
Wyoming Guns
352-628-2266
5987 S. Suncoast Blvd
Homosassa, FL 34446
Inverness Location
Pandora's Box Tobacco Shop
352-419-7945
3353 E. Gulf to Lake Highway, Inverness FL 34453