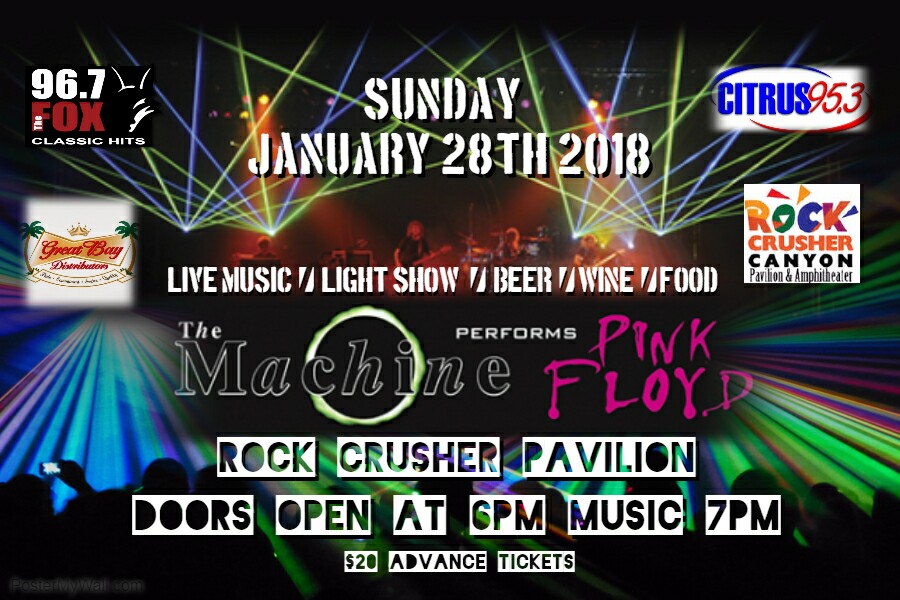 The Machine is Back!
Sunday, January 28, 2018 at 6 PM – 10 PM
Rock Crusher Canyon Pavilion & Amphitheater
275 S Rock Crusher Rd, Crystal River, Florida 34429
Once again the Nature coast's Classic Hits station FOX 96.7 and Citrus 95.3 hosts a live music event at the Rock Crusher Pavilion in Crystal River.
Last year's event had been huge, with 1700+ attendees, enjoying great classic rock, food and ice cold beer and wine.
THE FOX and CITRUS 95 KICKS OFF 2018 with the return of THE MACHINE out of New York. America's top PINK FLOYD Show.
Tickets are $20 each & they are now on sale at the following locations:
Crystal River Locations
Sea the Source – Crystal River
352-228-4799 – Crystal river mall
1801 US 19 N. 
Crystal River, FL 34428
Clawdaddy's – Crystal River
352-564-2529 (in the Winn-Dixie plaza)
1601 SE 8th Ave
Crystal River, FL 34429
Pandora's Box Tobacco Shop – Crystal River
352-794-3389 (Across from Wendy's)
157 SE US Hwy 19,
Crystal River, FL 34429
Brooklyn Dockside Deli – Crystal River
352-795-6669
300 NW US Highway 19
Crystal River, FL 34429
Beverly Hills Locations
G & R Pharmacy – Beverly Hills
352-527-3111
3791 N. Lecanto Highway
Beverly Hills, FL 34465
Floral City Location
Wassabi Smoke Shop
352-726-8158
6185 S Florida Ave
Floral City, FL 34436
Hernando Location
G & R Pharmacy – Hernando
352-419-8949
946 E Norvell Bryant Hwy,
Hernando FL 34442
Homosassa Locations
Angel's heaven on earth – Homosassa
352-503-9909 (Sunny day's plaza)
5372 S. Suncoast Blvd
Homosassa, FL 34446
G & R Pharmacy – Homosassa
352-628-0096
5691 S. Suncoast Blvd,
Homosassa FL 34446
Wyoming Guns – Homosassa
352-628-2266
5987 S. Suncoast Blvd
Homosassa, FL 34446
Inverness Location
Pandora's Box Tobacco Shop – Inverness
352-419-7945
3353 E. Gulf to Lake Highway, Inverness FL 34453
Hudson Location
Greatest Hits 106 WGHR – Hudson
727-697-1063
13825 US Highway 19 Suite 400
Hudson, FL 34667
Lecanto Location
Citrus 95.3 & The Fox 96.7 Studios
352-746-9596
964 S. Crystal Glen Dr
Lecanto, FL 94461