Ahoy ye matey!
It is Coming…May 20th starting at Nigh Noon!
The captain found this map where ye can find the treasured parking for all ye landlubbers non-floaty vessels!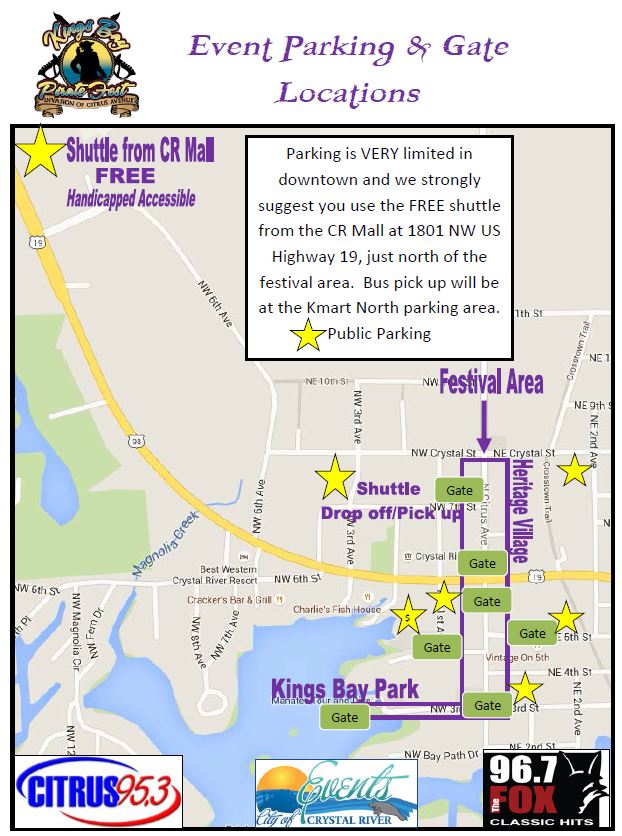 Calling all pirates, mermaids and everything in between. Discover downtown Crystal River and Kings Bay Pirate Fest while dressed in your best garb. Come for an afternoon of piratical fun: jump back in time with the pirate encampment and gaze at the fire performers, while enjoying great food and drinks.
Take a stroll down Citrus Avenue and explore the great shops, eateries and bars of downtown. Wander into Heritage "Pirate" Village for arts, crafts and more entertainment. Head down to the water and Kings Bay Park to grab a cold beer or wine and enjoy the music of Never Stop Believin', the Journey Tribute Band.
Cheer on your favorite pirate float at the raft races. Young mateys can enjoy adventures throughout the festival and treasure hunt for gold coins along the Avenue. Scallywags young and old will want to enter the best garb contests for a chance to win cash and prizes. Don't miss this new truly one-of-a-kind Crystal River event!
For more information on Kings Bay Pirate Fest click the link!
http://kingsbaypiratefest.com/